One might ask is there a difference between management and leadership? The short answer is yes!
Leaders focus on the big picture and provide vision and inspiration. Leaders have followers and are deeply passionate about what they believe and that passion inspires others to follow and ensure goals are reached. Managers on the other hand ensure the practical implementation of that vision. Managers coordinate the efforts of employees to ensure objectives and goals are met.
Often people in senior roles will have both management and leadership qualities and depending on the size of the company may wear both hats.
Therefore, yes there are differences between leadership and management but often they are intertwined to ensure organisational goals are achieved.
What is Leadership?
Leadership involves having the ability to guide, inspire and influence others to achieve goals and objectives set out by an organisation.
Bill Gates said "As we look into the next century, leaders will be those who empower others"
Some key leadership skills are:
Communication
Great communication fosters a culture of trust and collaboration. Most leaders are very skilled communicators and can covey ideas and visions with clarity.
They actively listen, are open and transparent and adapt style depending on who they are communicating with or the message they are conveying.
Flexibility
A key skill today as leaders navigate a rapidly changing social and economic environment. In times of uncertainty, leaders need to be able to modify their approach to achieve desired goals. Being flexible leads to creative innovative problem-solving.
While they are flexible, they also recognise the need to be flexible with their employees and understand this approach generally delivers positive results and a happy workforce who are willing to go the extra mile for you.
Persuasion & influencing
There are certain leadership qualities required to be able to persuade and influence others to get the job done. It can be done by gaining the respect of your team and building trust.
Leaders can do this by doing what they say they will do, being approachable and likeable, being authentic, self-aware and having high emotional intelligence.
Having a clear vision.
Leaders know what they want to achieve, and they set specific goals and objectives to ensure they make those achievements come to fruition. They are big-picture thinkers, and they inspire and motivate others to work hard to achieve not only organisational goal but their personal goals also. The team is likely to work harder to ensure these goals are met.
What is Management?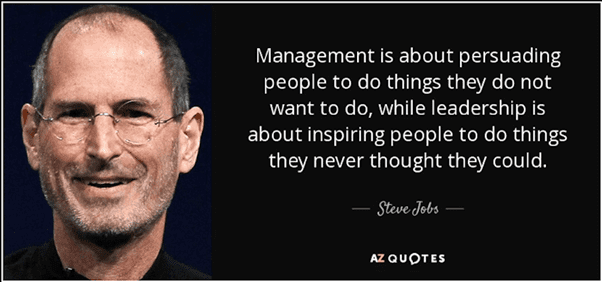 Management is the process of planning, organising, leading and controlling business resources such as people, financial, physical and information so that they can achieve business goals and objectives.
Management is essential to the success of any business and having the right people in place ensures goals are met, high morale among the team with less turnover and increased productivity to name a few benefits.
Some key functions are:
Planning
Planning helps determine what needs to be done, when it's going to be done and by whom to achieve business goals. A manager will identify ways and strategies to ensure goals are met. They need to be big-picture thinkers so they can anticipate potential challenges and have solutions in place to mitigate those risks.
Organising
This involves arranging resources and tasks to meet targets. It may involve the design of the organisation structure, defining roles and responsibilities and allocating resources. You are effective in ensuring that the team are working smart with little confusion or duplication of work and that goals are met without delay. Also. when the right resources are allocated to specific projects you will generally get a higher quality output.
Anonymous Quote – "For every minute spent organising, an hour is gained"
Leading
Leadership qualities include inspiring, motivating, collaborating, communicating, and delegating to name just a few. A leader will provide the necessary guidance so that employees are working effectively and efficiently towards organisational goals.
It also involves living by acceptable behaviours so that you positively influence the behaviours of your employees. A good leader learns from mistakes is non-judgemental and takes responsibility for their actions.
Controlling
Monitor and evaluation are key processes put in place again to ensure business objectives are being met. It involves setting performance standards, putting key metrics in place to measure and putting actions in place to manage poor performance to drive improvements.
Setting up a talent pipeline and offering training for talent development is also a key component to the success of the business as you are developing the managers and leaders who may one day run the business.
What is the difference between leadership and management?

What are the similarities between leadership and management?
One of the main similarities between management and leadership is being goal-orientated; and focused on achieving organisational objectives.
Both hold a position of authority and have a responsibility for a group of employees.
Both managers and leaders are necessary within a company and often work very closely to ensure the successful day-to-day running of the business and one eye always on the bigger picture.
Managers and leaders possess charisma which is necessary to be able to influence and motivate others. They possess high emotional intelligence and self-awareness and can easily adapt their style and approach depending on the situation and who they are dealing with.
They both have the same end goal in mind, maximise profits while living the values of the organisation, leading by example and being truly authentic.
Conclusion
In conclusion, there are a lot of similarities between managers and leaders. The skills required crossover and both roles work closely together to ensure short- and long-term goals can be achieved.
Some qualities of a good leader are communication, accountability, emotional Intelligence, decision-making, and innovation. I think it is safe to say a manager will possess many of these qualities also. They are intertwined and a leader's vision seldom succeeds without a strong manager to motivate and manage employees to make the vision a reality.
Book with us today
We at The HR Suite offer many training programmes to support the development of Supervisors, Managers and Leaders that focus on behaviours required to be successful in their roles. Many find themselves in the roles due to growth and by completing relevant training they gain the skills to confidently manage those on their team.
Diversity, Equity, and Inclusion have quickly become a hot topic and its area businesses are navigating for the first time, let us help you.
We are delighted to inform you that we have designed a series of five short e-learning courses on the topic of Diversity and inclusion. Courses include Neurodiversity, Transgender Inclusiveness, Supporting our LGBTQ+ Work Colleagues, Inclusive Language, and Unconscious Bias. Click here for more details on each course, make an enquiry or purchase one or more courses directly.
Our HR Consultancy also offers other services such as HR outsourcing, Employment Law consultancy, support with Business Solutions and HR Strategy.
Don't hesitate to get in touch with us to discuss your needs, we are here to help.